Many attorneys focus on sharing the obligatory details of their education on their biography page without giving any insight into their character.  We believe if you've come to this page, you're looking for more than just the facts.  You're wondering about the Ventura attorney Bryan J. Clifton and if he's the right attorney for you.  Congratulations on doing your due diligence!  It's the first step, and an important one, in seeking justice and closure in your case.
Bryan J. Clifton, Esq. is not your typical, impatient divorce attorney.  In fact, he might just be the opposite of what you picture an attorney to be.  When you meet him, you might just spot a pair of funky socks on his feet or skull-and-crossbones on his necktie.  Mr. Clifton is an outgoing and personable attorney known for his smooth speech in the courtroom.  A Judge once commented that Mr. Clifton "had [him] at 'May it please the court.'"
His peers also praise his support to his clients outside of the court room.  He is known to be empathetic and supportive, with the advanced knowledge of divorce, custody, family law, criminal defense, and personal injury needed to explain situations and codes to clients in a way that they can understand.

The majority of his client reviews praise him for going "out of his way" to assist.  As a part of this commitment to you, Mr. Clifton offers free consultations for people in Ventura County looking for an attorney for divorce, custody, family law, criminal defense, and personal injury cases.  You have nothing to lose and an articulate, ethical lawyer to gain by coming in for a consultation with Ventura attorney Bryan J. Clifton.  Call for a free consultation today!

Looking for more of the facts?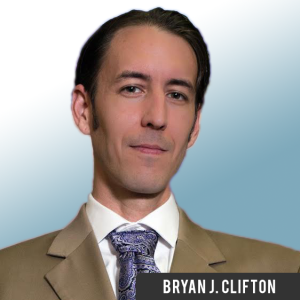 Ventura attorney Bryan J. Clifton is the third-generation in his family to live in Ventura, and the second-generation to work in the legal field of family law and personal injury.
He obtained his undergraduate at UC Santa Barbara in 2007 (and is adjunct faculty at Southern California Institute of Law).
He received his Juris Doctorate from the University of San Francisco School of Law in 2010
He was admitted into the State Bar of California as a member in 2010.
In his free time, he referees for Ventura County Women's Roller Derby (yes, that means he's a 'Zebra').